Please Report Any Broken Links Or Trouble You Might Come Across To The Webmaster
Please Take A Moment To Let Us Know So That We Can Correct Any Problems And Make Your Visit As Enjoyable And As Informative As Possible.
---
Navsource Online: Destroyer Escort Photo Archive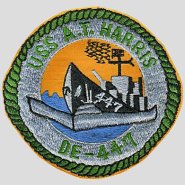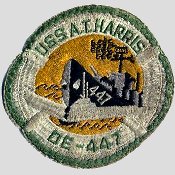 Ship's patches courtesy of Mike Smolinski

USS Albert T. Harris (DE 447)





Flag Hoist / Radio Call Sign:
N - T - R - V
Tactical Voice Radio Call: "Four Acres"

---
Awards, Citations and Campaign Ribbons

Specifications:
Class: John C. Butler
Type: WGT (geared-turbine drive, 5" guns)
Displacement: 1350 tons (light), 1745 tons (full)
Length: 300' (wl), 306' (oa)
Beam: 36' 10" (extreme)
Draft: 11' 0" (draft limit)
Propulsion: 2 "D" Express boilers, 2 geared turbine engines, 12,000 shp, 2 screws
Speed: 24 kts
Range: 6,000 nm @ 12 knots
Armament: 2 - 5"/38 cal. DP guns (2x1), 4 - 40mm AA (2x2), 10 - 20mm AA, 3 - 21" TT, 1 Mk10 Hedgehog, 8 Mk6 Depth Charge Projectors, 2 Mk9 Depth Charge Stern Racks
Complement: 14 / 201
---
Albert T. Harris (DE 447) Building and Operational Data:
13 January 1944: Keel laid at the Federal Shipbuilding & Drydock Co., Port Newark, N.J.
16 April 1944: Launched and christened, sponsored by Mrs. J. D. Harris, the mother of Lt. (jg.) Harris
29 November 1944: Commissioned at the New York Navy Yard, Lcdr Sidney King in command
26 July 1946: Decommissioned at San Diego, Cal. after 1.67 years of service
27 April 1951: Recommissioned at San Diego, Lcdr W. M. Robinson in command
September 1951: Changed homeport to Newport, R.I. as a unit of Escort Squadron 12
September 1957: Assigned to NRT, 3rd Naval District at the U.S. Naval Reserve Training Center, Whitestone, N.Y.
2 October 1961: Reactivated for the Berlin Crisis
8 November 1962: Deactivated, reassigned to NRT duty at Whitestone, N.Y.
21 September 1968: Decommissioned at the Philadelphia Naval Shipyard after 17.42 years of service
23 September 1968: Struck from the NVR with a total of 19.1 years of service
9 April 1969: Sunk as target off the Virginia Capes
---
Click On Image
For Full Size Image
Size
Image Description
Contributed
By And/Or Copyright
70k
17 December 1944: USS Albert T. Harris (DE 447) underway in Measure 31, Design 2D camouflage, location unknown. The colours are haze grey, ocean grey and dull black on vertical surfaces: deck blue on the horizontal. (U.S. Naval Historical Center Photo #NH 96647, Photo and text from the Dictionary of American Naval Fighting Ships)
Robert Hurst
102k
date / location unknown (Photo &copy Our Navy Photos, Brooklyn, N.Y.)
Charles H. Nadler
Lt(jg), USNR (Ret.)
177k
date / location unknown
Nick Tiberio
393k
20 January 1969: Philadelphia, Pa. - ex-Albert T. Harris nested in the Reserve Basin at the Philadelphia Naval Shipyard. She is outboard of ex-Tills (DE 748) and ex-Eberle (DD 424). In the background can be seen Pandemus ex-ARL 18, out of commission and being stripped for sale.
James Swank
696k
20 January 1969: Philadelphia, Pa. - A starboard beam view of ex-Albert T. Harris nested in the Reserve Basin at the Philadelphia Naval Shipyard. In the background, across the basin, can be seen Terror ex-MMF 5, out of commission and being stripped for sale.
---
---
View the USS Albert T. Harris (DE 447) DANFS history entry
located on the Naval History and Heritage Command web site.

---
Crew Contact And Reunion Information
---
1944 - 1946 Crew
Contact Name: Bob Mitchell, RT2c
Address: Box 36833 / Tucson AZ 85740-6833
Phone: (520) 293-0956
E-mail: remcoaz@juno.com

2nd Commission Crew
Contact Name: Charlie Cook
Address: 4820 S. Florence Place / Tulsa OK 74105-5334
Phone: (918) 749-8434
E-mail:Charlie Cook

---
Note About Contacts
Contact information is compiled from various sources over a period of time and may, or may not, be correct. Every effort has been
made to list the newest contact. However, our entry is only as good as the latest information that's been sent to us. We list only
a contact for the ship if one has been sent to us. We do NOT have crew lists, rosters, or deck logs available. Please see the Frequently
Asked Questions section on NavSource's Main Page for that information.
---
Additional Resources
---
Destroyer Escort Sailors Association
Tin Can Sailors Shipmate Registry - USS Albert T. Harris
The Destroyer History Foundation
---

Comments, Suggestions, or Image Submissions, Please E-mail: DE Info
Problems or Site Related Matters, Please E-mail: Webmaster

This Page Created And Maintained by Mike Smolinski



by Paul R. Yarnall, All Rights Reserved.
Page Last Updated 02 August 2015