Please Report Any Broken Links Or Trouble You Might Come Across To The Webmaster
Please Take A Moment To Let Us Know So That We Can Correct Any Problems And Make Your Visit As Enjoyable And As Informative As Possible.
---
Navsource Online: Destroyer Escort Photo Archive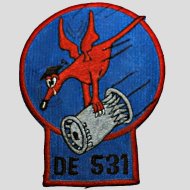 Ship's patch courtesy of Mike Smolinski
USS Edward H. Allen (DE 531)





Flag Hoist / Radio Call Sign:
N - T - F - V

---
Awards, Citations and Campaign Ribbons

Specifications:
Class: John C. Butler
Type: WGT (geared-turbine drive, 5" guns)
Displacement: 1350 tons (light), 1745 tons (full)
Length: 300' (wl), 306' (oa)
Beam: 36' 10" (extreme)
Draft: 11' 0" (draft limit)
Propulsion: 2 "D" Express boilers, 2 geared turbine engines, 12,000 shp, 2 screws
Speed: 24 kts
Range: 6,000 nm @ 12 knots
Armament: 2 - 5"/38 cal. DP guns (2x1), 4 - 40mm AA (2x2), 10 - 20mm AA, 3 - 21" TT, 1 Mk10 Hedgehog, 8 Mk6 Depth Charge Projectors, 2 Mk9 Depth Charge Stern Racks
Complement: 14 / 201
---
Edward H. Allen (DE 531) Building and Operational Data:
31 August 1943: Keel laid by the Boston Navy Yard, Charlestown, Mass.
7 October 1943: Launched and christened, sponsored by Mrs. David H. Clark
16 December 1943: Commissioned, Lcdr M. M. Sanford in command
10 May 1946: Decommissioned at Green Cove Springs, Fla.
26 February 1951: Recommissioned, assigned to NRT, 3rd Naval District, at New York City
9 January 1958: Decommissioned
1 July 1972: Struck from the NVR
5 February 1974: Sold for scrapping
---
Click On Image
For Full Size Image
Size
Image Description
Contributed
By And/Or Copyright
95k
Edward Henry Allen was born 2 March 1908 in Pekin, N.D. He attended the University of North Dakota for two years prior to being appointed to the Naval Academy. He graduated from the Naval Academy in 1931. While serving as Executive Officer of Scouting Squadron 2 in USS Lexington (CV 2), Lieutenant Allen was reported missing 7 May 1942 when his plane was shot down by enemy aircraft during the Battle of the Coral Sea. He was awarded a Navy Cross for the defense of his carrier on 20 February 1942 and a Gold Star in lieu of a second Navy Cross for the action in which he lost his life. He was also awarded posthumously the Purple Heart in 1943.

USS Edward H. Allen (DE 531) (1943-1958) was the first ship to be named in his honor.

(Left photo courtesy of the United States Naval Academy)
(Right photo courtesy of Lee Allen Comita, grandaughter of Lt. Allen)
Bill Gonyo /
John Comita, Jr.
46k
undated wartime image
Robert Hurst
57k
105k
undated post-war image
Bill Humienny
65k
undated post-war image
Nick Tiberio
470k
1954: New York Harbor
Jacques Alliod
Munich, Germany
86k
1956 (U.S. Navy Photo)
Werner Grabner
84k
1956: smoke screen
Werner Grabner


Photos &copy Werner Grabner
39k
1956: depth charge
93k
1956: SS Andrea Doria sinking in background as her crew is brought aboard Allen. (Permission must be obtained to reproduce this photo)
520k
Complete List of Andrea Doria's crew rescued by Edward H. Allen, 1956
303k
Winter 1972 - Spring 1973: Philadelphia, Pa. - A closer view of Rizzi (DE 537), and Edward H. Allen at the Inactive Ship Basin at the Philadelphia Naval Shipyard.
Jim Cunliffe
---
View the USS Edward H. Allen (DE 531) DANFS history entry
located on the Naval History and Heritage Command web site.
---
Crew Contact And Reunion Information
---
None
---
Note About Contacts
Contact information is compiled from various sources over a period of time and may, or may not, be correct. Every effort has been
made to list the newest contact. However, our entry is only as good as the latest information that's been sent to us. We list only
a contact for the ship if one has been sent to us. We do NOT have crew lists or rosters available. Please see the Frequently Asked
Questions section on NavSource's Main Page for that information.
---
Additional Resources
---
Destroyer Escort Sailors Association
Tin Can Sailors Shipmate Registry - USS Edward H. Allen
The Destroyer History Foundation
---

Comments, Suggestions, or Image Submissions, Please E-mail: DE Info
Problems or Site Related Matters, Please E-mail: Webmaster

This Page Created And Maintained by Mike Smolinski



by Paul R. Yarnall, All Rights Reserved.
Page Last Updated 04 September 2015