Please Report Any Broken Links Or Trouble You Might Come Across To The Webmaster
Please Take A Moment To Let Us Know So That We Can Correct Any Problems And Make Your Visit As Enjoyable And As Informative As Possible.
---
Navsource Online: Destroyer Escort Photo Archive
USS Rizzi (DE 537)





Flag Hoist / Radio Call Sign:
N - T - U - M
---
Awards, Citations and Campaign Ribbons

Specifications:
Class: John C. Butler
Type: WGT (geared-turbine drive, 5" guns)
Displacement: 1350 tons (light), 1745 tons (full)
Length: 300' (wl), 306' (oa)
Beam: 36' 10" (extreme)
Draft: 11' 0" (draft limit)
Propulsion: 2 "D" Express boilers, 2 geared turbine engines, 12,000 shp, 2 screws
Speed: 24 kts
Range: 6,000 nm @ 12 knots
Armament: 2 - 5"/38 cal. DP guns (2x1), 4 - 40mm AA (2x2), 10 - 20mm AA, 3 - 21" TT, 1 Mk10 Hedgehog, 8 Mk6 Depth Charge Projectors, 2 Mk9 Depth Charge Stern Racks
Complement: 14 / 201
---
Rizzi (DE 537) Building and Operational Data:
03 November 1943: Keel laid by the Boston Navy Yard, Charlestown, Mass.
07 December 1943: Launched and christened, sponsored by Mrs. Teresa Rizzi, mother of Seaman First Class Rizzi
26 June 1945: Commissioned, Lcdr E. K. Winn, USNR, assumed command
18 June 1946: Decommissioned at Green Cove Springs, Fla. after 1 year of service
28 March 1951: Recommissioned, assigned to NRT, 3rd Naval District at New York City
28 February 1958: Decommissioned at the Philadelphia Naval Shipyard with 7 years and 11 months of total service
01 August 1972: Struck from the NVR
05 February 1974: Sold for scrapping
---
Click On Image
For Full Size Image
Size
Image Description
Contributed
By And/Or Copyright
117k
June 1945: at sea - USS Rizzi (DE 537) built at the Boston Navy Yard, is shown underway, as commissioned.
(U.S. Navy Photo from the 1st Naval District Command)
Mike Green
Port Angeles, Wash.
80k
1954: Havana, Cuba
Sonarman 2nd Class Joseph J. Kuczka
Keith Kuczka, USCG
90k
1954: Post card image taken entering Havana Harbor, Cuba
95k
June 1955: at sea in the Atlantic - Transferring the doctor from USS Allen (DE-531) to Rizzi during a training exercise.
John Nilsson, USNR
122k
date / location unknown
David Buell
269k
Winter 1972 - Spring 1973: Philadelphia, Pa. - A view of the Inactive Ship Basin at the Philadelphia Naval Shipyard. Looking south from the Langley Ave. side, we see Whitehall (PC-856) and another unidentified PC alongside the the Intrepid Ave. quay. Further to the right, at the Constitution Ave. quay we see Oswald (DE 767), Melvin R. Nawman (DE 416), Tabberer (DE 418), Coffman (DE 191), Rizzi, and Edward H. Allen (DE 531).
Jim Cunliffe
303k
Winter 1972 - Spring 1973: Philadelphia, Pa. - A closer view of Rizzi, and Edward H. Allen (DE 531) at the Inactive Ship Basin at the Philadelphia Naval Shipyard.
---
Rizzi Memorabilia
Ship's
Matchbook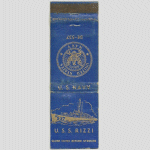 Courtesy of
Nick Tiberio
---
Rizzi History
View the USS Rizzi (DE 537) DANFS history entry located on the Naval History and Heritage Command web site.
View the official War History of USS Rizzi as submitted by the ship at war's end.
---
Crew Contact And Reunion Information
---
None
---
Note About Contacts
Contact information is compiled from various sources over a period of time and may, or may not, be correct. Every effort has been
made to list the newest contact. However, our entry is only as good as the latest information that's been sent to us. We list only
a contact for the ship if one has been sent to us. We do NOT have crew lists, rosters, or deck logs available. Please see the
Frequently Asked Questions section on NavSource's Main Page for that information.
---
Additional Resources
---
Tin Can Sailors
The U.S. Navy Memorial
Destroyer Escort Sailors Association
The Destroyer Escort Historical Museum
The Destroyer History Foundation
Tin Can Sailors Shipmate Registry - USS Rizzi
---

Comments, Suggestions, E-mail: Webmaster.



This Page Created And Maintained By Mike Smolinski



by Paul R. Yarnall, All Rights Reserved.
Page Last Updated: 03 July 2018