Please Report Any Broken Links Or Trouble You Might Come Across To The Webmaster
Please Take A Moment To Let Us Know So That We Can Correct Any Problems And Make Your Visit As Enjoyable And As Informative As Possible.
---
Navsource Online: Destroyer Escort Photo Archive

German torpedo attack in the Atlantic - Although Barr was brought home, repaired,
and restored to duty, 17 of her crew were lost and remain on eternal duty
USS Barr (DE 576 / APD 39)





Flag Hoist / Radio Call Sign:
N - K - V - X
---
Awards, Citations and Campaign Ribbons

Specifications:
Class: Buckley
Type: TE (turbine-electric drive, 3" guns)
Displacement: 1400 tons (light), 1740 tons (full)
Length: 300' (wl), 306' (oa)
Beam: 36' 9" (extreme)
Draft: 10' 6" (draft limit)
Propulsion: 2 "D" Express boilers, G.E. turbines with electric drive, 12000 shp, 2 screws
Speed: 24 kts
Range: 6,000 nm @ 12 knots
Armament: 3 x 3"/50 Mk22 (1x3), 1 twin 40mm Mk1 AA, 8 x 20mm Mk 4 AA, 3 x 21" Mk15 TT (3x1), 1 Hedgehog Projector Mk10 (144 rounds), 8 Mk6 depth charge projectors, 2 Mk9 depth charge tracks
Complement: 15 / 198
---
Barr (DE 576) Building and Operational Data:
05 November 1943: Keel laid by by the Bethlehem-Hingham Shipyard Co., Hingham, Mass.
28 December 1943: Launched and christened, sponsored by Mrs. Cora Dell Barr, Pfc. Barr's mother
15 February 1944: Commissioned at Hingham, Mass., Lcdr. Henry H. Love, USNR, in command
29 May 1944: Torpedoed by U-549 while operating with USS Block Island (CVE 21); 5 crewmembers dead, 12 missing, and 11 injured
26 October 1944: Conversion to a Crosley Class APD completed at the Boston Navy Yard (redesignated APD 39)
12 July 1946: Decommissioned at Green Cove Springs, Fla. after 2 years and 5 months of service
01 June 1960: Struck from the NVR
23 March 1963: Sunk as target off Vieques Island, Puerto Rico
---
Click On Image
For Full Size Image
Size
Image Description
Contributed
By And/Or Copyright
81k
USS Barr (DE 576) after being torpedoed on 29 May 1944.

(U.S. Naval Historical Center photo #NH 86683 from the Naval History and Heritage Command)
Mike Green
Port Angeles, Wash.
106k
USS Barr (DE 576) showing damage to her stern after she was torpedoed by U-549 in the same wolfpack battle in which USS Block Island
(CVE 21) was sunk.

(Photo from "United States Destroyer Operations in World War II" by Theodore Roscoe)
Bob Hurst
Worksop, Nottinghamshire,
England, United Kingdom
59k
Caption from the above news photo.
Tommy Trampp
Benton City, Wash.
211k
A similar picture to the above, taken from a different angle.

(Photo from the Ned J. Marrow Collection)
Ned Marrow
via
Carol Hipperson
---
Memorabilia
Newsletter Article about
Block Island's Loss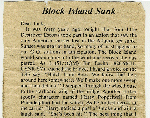 Courtesy of
Ned Marrow
---
Barr History
View the USS Barr (DE 576) DANFS history entry located on the Naval History and Heritage Command web site.
---
Barr's Commanding Officers
Thanks to Wolfgang Hechler & Ron Reeves
Dates of Command
Commanding Officers
1.) 15 Feb. 1944 - 02 Jul. 1944
Lcdr. Henry Harold Love, USNR (Comm. CO)
2.) 02 Jul. 1944 - 31 Jul. 1945
Lcdr. Porter Tobias Dickie, USNR
3.) 31 Jul. 1945 - 22 Nov. 1945
Lt. William Howard Gordon, USNR
4.) 22 Nov. 1945 - 12 Jul. 1946
Lt. George Mason Rowan, USNR (Decomm. CO)
---
Crew Contact And Reunion Information
---
Contact Name: "Smiley" Burnette
E-mail: Smiley Burnette
---
Note About Contacts
Contact information is compiled from various sources over a period of time and may, or may not, be correct. Every effort has been
made to list the newest contact. However, our entry is only as good as the latest information that's been sent to us. We list only
a contact for the ship if one has been sent to us. We do NOT have crew lists or rosters available. Please see the Frequently Asked
Questions section on NavSource's Main Page for that information.
---
Additional Resources
---
Navsource APD Pages, USS Barr (APD39)
Tin Can Sailors
The U.S. Navy Memorial
Destroyer Escort Sailors Association
The Destroyer Escort Historical Museum
The Destroyer History Foundation
---

Comments, Suggestions, E-mail: Webmaster.



This Page Created And Maintained By Mike Smolinski



by Paul R. Yarnall, All Rights Reserved.
Page Last Updated: 19 December 2019