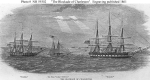 117k
"The Blockade of Charleston".
A line engraving published in "Harper's Weekly", July-December 1861, page 599, probably depicting the capture of the blockade runner Arthur Middleton, off Charleston, S.C., 21 August 1861. Arthur Middleton is shown in the center of the view, flying a Confederate flag. USS Vandalia is at left, and USS Roanoke is at right.
US Naval History and Heritage Command photo # NH 59302.
Robert Hurst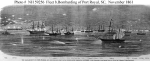 75k
"Bombardment and Capture of Port Royal, South Carolina, 7 November 1861" Engraving published in "Harper's Weekly", July-December 1861 volume, pages 760-761. It depicts Federal warships, under Flag Officer Samuel F. DuPont, USN, bombarding Fort Beauregard (at right) and Fort Walker (at left). The Confederate squadron commanded by Commodore Josiah Tattnall is in the left center distance. Subjects identified below the image bottom are (from left): tug Mercury,
Fort Walker,
USS Wabash (DuPont's flagship),
steamer Screamer (?),
USS Susquehanna,
CSS Huntsville, Commo. Tattnall, (probably misidentified as no record exists that CSS Huntsville served in the defenses of Port Royal, S.C.
USS Bienville,
USS Pembina,
USS Seneca,
USS Ottawa,
USS Unadilla,
USS Pawnee,
USS Mohican,
USS Isaac Smith,
USS Curlew; (probably misidentified as no record exists that USS Curlew served with South Atlantic Blockading Squadron),
USS Vandalia,
USS Penguin,
USS Pocahontas,
USS Seminole,
Fort Beauregard,
USS R.B. Forbes
and "Rebel Camp".
US Naval History and Heritage Command # NH 59256
US Naval History and Heritage Command