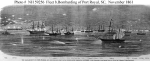 75k
"Bombardment and Capture of Port Royal, South Carolina, 7 November 1861" Engraving published in "Harper's Weekly", July-December 1861 volume, pages 760-761. It depicts Federal warships, under Flag Officer Samuel F. DuPont, USN, bombarding Fort Beauregard (at right) and Fort Walker (at left). The Confederate squadron commanded by Commodore Josiah Tattnall is in the left center distance. Subjects identified below the image bottom are (from left): tug Mercury,
Fort Walker,
USS Wabash (DuPont's flagship),
steamer Screamer (?),
USS Susquehanna,
CSS Huntsville, Commo. Tattnall, (probably misidentified as no record exists that CSS Huntsville served in the defenses of Port Royal, S.C.
USS Bienville,
USS Pembina,
USS Seneca,
USS Ottawa,
USS Unadilla,
USS Pawnee,
USS Mohican,
USS Isaac Smith,
USS Curlew; (probably misidentified as no record exists that USS Curlew served with South Atlantic Blockading Squadron),
USS Vandalia,
USS Penguin,
USS Pocahontas,
USS Seminole,
Fort Beauregard,
USS R.B. Forbes
and "Rebel Camp".
US Navy photo # NH 59256
US Naval History and Heritage Command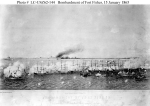 94k
"Bombardment of Fort Fisher" "Jan. 15th 1865"
Lithograph after a drawing by T.F. Laycock, published by Endicott & Co., New York, 1865, depicting the North Atlantic Blockading Squadron bombarding Fort Fisher, North Carolina, in preparation for its capture. The print is dedicated to Commodore S.W. Godon, USN. Ships present, as named on the original print, are (from left to right in the main battle line):
USS Tacony;
USS Maumee;
USS Ticonderoga;
USS Shenandoah;
USS Tuscarora;
USS Juniata;
USS Wabash;
USS Susquehanna;
USS Colorado;
USS Minnesota;
USS Brooklyn;
USS New Ironsides and
USS Mohican.
Ships in the foreground are (left to right, from the center of the view):
USS Powhatan;
USS Mackinaw;
USS Vanderbilt and
USS Malvern (Flagship of Rear Admiral David Dixon Porter).
Monitors in the right middle distance are:
USS Monadnock (with two turrets);
USS Mahopac;
USS Saugus and
USS Canonicus.
US Naval History and Heritage Command photo # LC-USZ62-144 from the collections of the Library of Congress.
Bill Gonyo