Please report any broken links or trouble you might come across to the Webmaster. Webmaster. Please take a moment to let us know so that we can correct any problems and make your visit as enjoyable and as informative as possible.
---
NavSource Online: Amphibious Photo Archive
USS Walter B. Cobb (APD-106)
---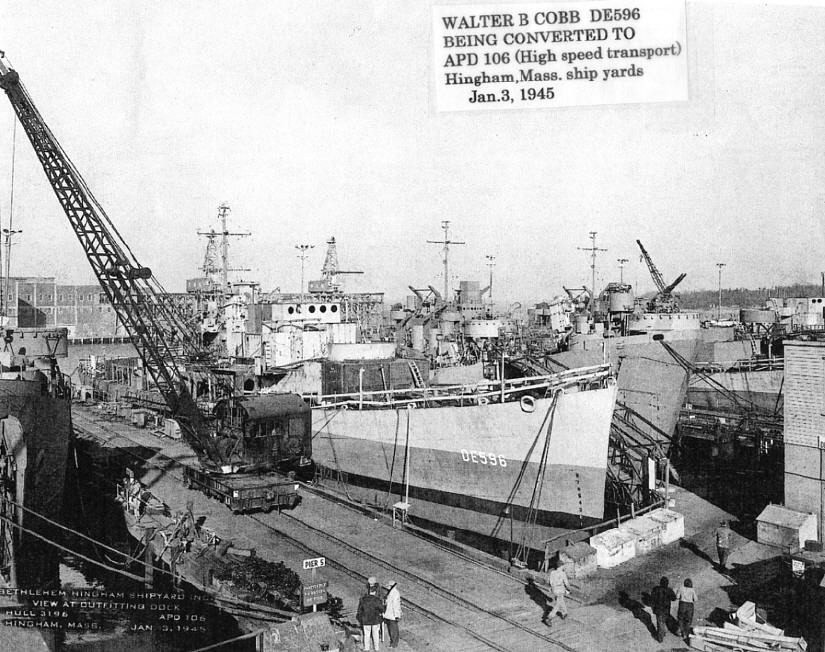 USS Walter B. Cobb DE 596/APD 106
3 January 1945 at Bethlehem Hingham Shipyard, Hingham, MA During conversion from DE to APD
Bottom left of the photo reads, "View at Outfitting Dock" Original photo is labeled at right lower corner as BS # 85601 (BuSHIPS photo) Photo and History Submitted by Ken Adams RM2/c, Plankowner aboard 1945-1946
---
Personal Ship History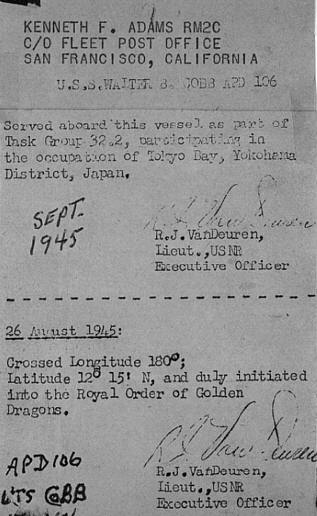 "Early May 1943, my best buddy, Bill Breland, and I decided to enlist in the Marines. Our brothers and cousins already serving. We passed the physical exam (Fed. Bldg Cincinnati) and took our papers home for our fathers to sign. My dad, a WW1 vet, said "no way." I eventually won his permission to join the Navy.
I enlisted at age 17 on May 29, 1943. I attended boot-camp at Great Lakes Training Center, Chicago, IL. After "boots" I attended the US Naval Radio School, Indianapolis in August 1943. Graduation day arrived January 3, 1944. Next, I attended Merchant Marine Radio School, Noroton Heights, CT. The Navy manned the Radio function/gunnery function on the Marine vessels. This school was closed and in early February I was transferred for sea duty aboard the USS EDSALL DE 129 as a radioman.
The Edsall was the "flagship" of the Atlantic Fleet Escort Div 59. We then participated in sub-chaser training at Miami, FL. The "shakedown training" (kinda like breaking in a new car) took place in the waters surrounding Bermuda. I have two memories here. I met/talked with movie actress Linda Darnell and also took part in a Navy Training Film on Shark Protection.
Following shakedown May 1944, the Edsall made seven Atlantic crossings of the Atlantic, escorting troop and supply convoys. Several sub-chasing events took place during this duty. Twice in 1944 the Edsall escorted supply ships that carried supplies for the Army fighting their way up the Italian peninsula. It was at Bari Air Force Base that I participated in a B-24 Liberator flight, seated in a gun turret, over southern Italy. The Great Atlantic Hurricane occurred as we were returning to New York from Taranto, Italy.
Also, EDSALL escorted troop ships to Greenock, Scotland and Plymouth and Portsmouth, England. In addition we delivered tankers to Argentina, Newfoundland and Galveston and Port Arthur, Texas.
After spending Christmas 1944 in the Irish Sea we again returned to New York. I was then transferred to Norfolk Naval Base for additional radio training and await the commissioning of the USS WALTER B. COBB APD 106, a high speed transport. One of my radio school instructors was a rescued radioman from the WARRINGTON!
I departed Norfolk for Hingham, MA and boarded the USS WALTER B. COBB for commissioning 25 April 1945. The shakedown for the COBB took place in the waters of Guantanamo, Cuba. Following the shakedown period the COBB carried Army troops through the Panama Canal to San Diego. While there the COBB took part in vigorous training in preparation for the invasion of Japan. The COBB, along with 15 other APD's, took aboard UDT's (Underwater Demolition Teams).
UDT 27 embarked aboard COBB. They had already been preparing for the invasion of Japan. While aboard in September 1945, UDT 27 operated inside Tokyo Bay Harbor reconnoitering beaches and landing areas in preparation for the arrival of other US Occupation Forces. USS COBB is listed with over 200 ships present in the Tokyo Bay area. She was anchored Yokohama & Yokosuka, September 4, 1945.
The USS COBB made port at Yokohama and Yokosuka. When going ashore, only groups of 25 men plus a corpsman and officer was the requirement. This was due to Japanese snipers hidden in caves above the cities.
COBB returned "home" to the USA as part of "operation magic carpet", bringing home those troops eligible for discharge from the US Forces. A "point system" had been pre-determined for such an occasion.
Following Operation Magic Carpet COBB made one last Pacific crossing. She then went to Manila by way of Pearl Harbor, Eniwetok, and Guam. After some 5 months in the Islands of the Philippines, including Christmas and New Years, COBB returned to the states to San Pedro, CA. COBB entered the Panama Canal March 1, 1946. She berthed ne x t at the Brooklyn Navy Yard.
Both EDSALL and COBB Decommissioned at Green Cove Springs, Fl., in 1946. EDSALL was sold July 1969 and scrapped. COBB once again returned to duty in 1951 during the Korean War and decommissioned in 1957. COBB was sold to Taiwan in 1966, along with USS GANTNER APD-42. The two ships were under tandem tow when they collided April 21, 1966. GANTNER was towed back to Treasure Island, CA, but COBB sank.
EDSALL and COBB were each named for Kentuckians who gave their ALL for America. It is ironic that my address at enlistment was Rosedale, Covington Co., Ky.
I was honorably discharged from the USN at the Great Lakes Training Center in 1946.
Medals earned -
American Campaign Medal
European-African-Middle-Eastern Campaign Medal
Asiatic-Pacific Campaign Medal
WW2 Victory Medal
Navy Occupation (Japan 1945) Medal
Returning to civilian life I served in the US Naval Reserve 1946-1951 and the Kentucky National Guard 195 8- 1959."
Ken Adams RM2/C 1943-1946
St Augustine, FL
---
This page is created and maintained by Gary P. Priolo