Please report any broken links or trouble you might come across to the Webmaster. Please take a moment to let us know so that we can correct any problems and make your visit as enjoyable and as informative as possible.
---
NavSource Online: Amphibious Photo Archive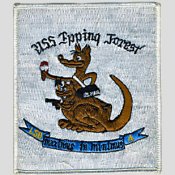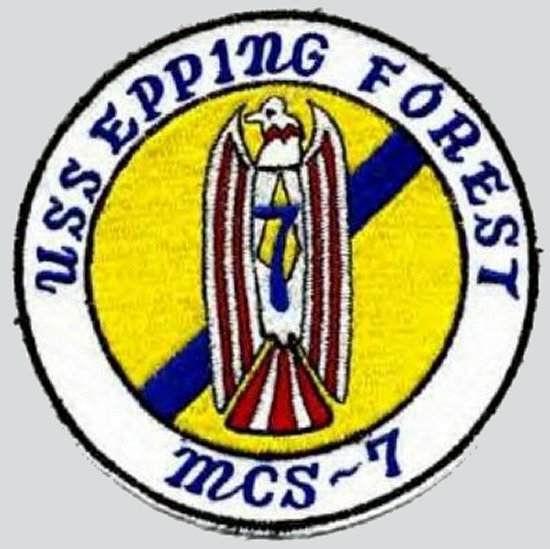 Patches contributed by Mike Smolinski



Contributed by Al Grazevich
USS Epping Forest (MCS-7)
ex
USS Epping Forest (LSD-4) (1943 - 1962)





International Radio Call Sign:
November - Xray - Yankee - Golf
NXYG
---
Awards, Citations and Campaign Ribbons

---
Ashland Class Dock Landing Ship:
Originally authorized as (APM-4), a Mechanized Artillery Transport
Reclassified as Dock Landing Ship (LSD-4), 1 July 1941
Laid down 23 November 1942, at Moore Drydock Co. Oakland CA;
Launched, 2 April 1943
Commissioned USS Epping Forest (LSD-4), 11 October 1943, LCDR. L. Martin, USNR, in command
During World War II USS Epping Forest was assigned to the Asiatic-Pacific Theater and participated in the following campaigns:
Campaign and Dates
Campaign and Dates
Marshall Islands operation
Occupation of Kwajalein and Majuro Atolls, 31 January to 8 February 1944
Marianas operation
Capture and occupation of Guam, 21 to 26 July 1944
Hollandia operation, 21 to 26 April and 28 April to 2 May 1944
Leyte operation
Leyte landings, 13 to 24 October, 31 October to 9 November and 13 to 21 November 1944
Western Caroline Islands operation
Capture and occupation of southern Palau Islands, Peleliu, 6 September to 14 October 1944
Okinawa Gunto operation
Assault and occupation of Okinawa Gunto, 1 April to 30 June 1945
Decommissioned, 25 March 1947, at San Diego, CA.
Placed in Reserve at Long Beach CA.
Recommissioned, 1 December 1950
During the Korean War USS Epping Forest participated in the following campaigns;
Campaign and Dates
Campaign and Dates
UN Summer-Fall Offensive
18 July to 25 September 1951
9 November 1951
Third Korean Winter
1 to 6 and 12 to 19 December 1952
21 February to 1 March 1953
8 to 15 March 1953
Second Korean Winter
5 to 6 and 17 to 19 December 1951
Korea, Summer-Fall 1953
28 May to 7 June 1953
12 June to 14 July 1953
Korean Defense Summer-Fall 1952
29 October to 17 November 1952
27 to 30 November 1952
Redesignated Mine Countermeasures Support Ship (MCS-7) 30 November 1962
During the Vietnam War USS Epping Forest participated in the following campaigns;
Campaign and Dates
Campaign and Dates
Vietnam Defense
4 to 19 July 1965
25 September to 22 October 1965
Vietnamese Counteroffensive - Phase III
4 to 11 June 1967
Vietnamese Counteroffensive
2 to 14 March 1966
9 to 10 and 23 to 25-May 1966
7 to 9 June 1966
Vietnamese Counteroffensive Phase IV
24 April to 24 May 1968
Vietnamese Counteroffensive - Phase II
12 September to 6 October 1966
21 March to 14 April 1967
Vietnamese Counteroffensive - Phase V
4 to 20 August 1968
Decommissioned and struck from the Naval Register, 31 October 1968
Final Disposition, sold for scrapping, 30 October 1969
USS Epping Forrest earned six battle stars for World War II service, five battle stars for Korean War service and six campaign stars for Vietnam War service
---
Specifications: (as reported by Office of Naval Intelligence, 7 April 1944)
Displacement 4,032 (light draft), 7,930 (seagoing - loaded)
Length 457' 9" o.a.
Beam 72"

Draft

8' 2 &frac12" fwd, 10' &frac12" aft (light draft)
15' 5 &frac12" fwd, 16' 2" aft (seagoing loaded)

Speed 17 kts (design speed)

Endurance 8,000 miles @ 15 knots

Complement

Officers 17
Enlisted 237

Troop Accommodations

Officers 22
Enlisted 218

Well Deck Capacity (varies with mission)

three LCT (Mk V or VI) each w/ 5 medium tanks or
two LCT (Mk III or IV) each w/ 12 medium tanks or
fourteen LCM (Mk III) each w/ 1 medium tank or 1, 500 long tons cargo or
forty-seven DUKW or
forty-one LVT or
Any combination of landing vehicles and landing craft up to capacity

Aircraft (still in commission in late 40's or early 50's) were fitted/retro-fitted with a prefabricated steel grated "Portable Deck" suspended between the wing walls and supported by removable I-beam girders. The aft end of the portable deck contained a wooden helicopter platform, enabling the ship to land and launch 1 helicopter at a time. Stowage of helicopters was limited to capacity of the portable deck installed for the mission. Aircraft servicing was limited to re-fueling. With portable deck and aircraft platform installed, the Landing ship, dock was still capable of transporting, launching and repairing smaller amphibious craft and vehicles up to the size of a Landing craft, utility (LCU) in their well decks.

Armament

one single 5"/38 cal dual purpose gun mount in open tub (w/director)
two quad 40mm AA gun mounts (w/directors)
two twin 40mm AA gun mounts (w/directors)
sixteen single 20mm AA gun mounts (local control)

Fuel Capacities

NSFO 11,720 Bbls
Diesel 160 Bbls
Gasoline 5,085 Gals

Propulsion

two Skinner Uniflow 5-cylinder reciprocating steam engines
two Babcock and Wilcox oil fired D-type boilers, two drum, single furnace, single uptake, 250psi
Ship's Service Generators
two turbo-drive 150Kw 120V D.C.


one Diesel-drive 100Kw 120V/240V D.C.

twin propellers, 7,400shp
---
Click On Image
For Full Size Image
Size
Image Description
Contributed
By
USS Epping Forest (LSD-4)

192k
USS Epping Forest (LSD-4) crew photo, probably taken in the Los Angeles area soon after the ship was commissioned.
Photo by Thompson Photo Studios, Los Angeles.
Teri Williams Easterling for her father Lomas Bryant Williams USS Epping Forest
30k
USS Epping Forest (LSD-4), date and location unknown.
USS Gunston Hall web site
219k
USS Epping Forest (LSD-4) in November 1953 at the start of her overhaul at Mare Island Naval Shipyard when her helicopter deck was added.
US Navy photo from the Vallejo Naval and Historical Museum.
Darryl Baker
79k
USS Epping Forest (LSD-4) under way, circa 1950s.
US Naval History and Heritage Command photo # NH 107620.
Robert Hurst
56k
USS Epping Forest (LSD-4), leaving San Diego, 1956. Note Coronado Ferry entering photo at far left.
Dale C Haskin
65k
Epping Forest (LSD 4) "mothering" coastal minesweeper USS Peacock (MSC-198)
U.S. Navy photo from the July 1962 edition of All Hands magazine
Robert Hurst
USS Epping Forest (MCS-7)

65k
USS Epping Forest (MCS-7), circa 1962, western Pacific.
US Navy photo.
Dictionary of American Navy Fighting Ships
---

For more photos and information about USS Epping Forest, see;
---
Crew Contact And Reunion Information
U.S. Navy Memorial Foundation - Navy Log
---
This page is created and maintained by Gary P. Priolo


Last Updated 20 May 2016