NS0310607
90k
USS Block Island (CVE-106) underway, date and location unknown. She is wearing a very simple [Measure 33 Design 18A camo]. US Navy courtesy of Floating Drydock.
Photo from Naval Camouflage 1914–1945, A Complete Visual Reference, by David Williams.
Robert Hurst


NS0310605
195k
Recovery of Ensign E.H. Barry, pilot of a Grumman AF-2 Guardian from anti-submarine squadron VS-22, by a Piasecki HUP-1 Retriever helicopter after the plane was forced to ditch immediately after launching on 12 August 1953. The parent escort carrier USS Block Island (CVE-106) is standing by in the background.
NS0310605: Photo USN. Source U.S. Navy National Museum of Naval Aviation, photo No. 1996.488.035.009.
NS0310605a: Photo USN. Source Naval Aviation News, October 1953 issue.
Pieter Bakels
---
Mike Green
---
Robert Hurst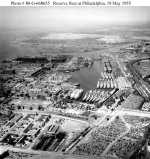 NS014444
138k
Reserve Fleet Basin, Philadelphia Naval Shipyard, Pennsylvania, photographed on 19 May 1955 with numerous cruisers, escort carriers, and auxiliaries in reserve.
The nearest ship is the never-completed Hawaii (CB-3), which lacks its previously-installed three 12" gun turrets.
The cruisers outboard of Hawaii are (in unknown order) Honolulu (CL-48), Columbia (CL-56), Denver (CL-58), Galveston (CL-93), and Portsmouth (CL-102).
To their left are Tranquility (AH-14), Sanctuary (AH-17), and Pocono (AGC-16).
Behind Hawaii (from left to right) are Montpelier (CL-57), Houston (CL-81), Huntington (CL-107), Savannah (CL-42), Cleveland (CL-55), and Wilkes-Barre (CL-103).
Beyond them (from left to right) are Wichita (CA-45), Oregon City (CA-122), Chester (CA-27), and New Orleans (CA-32).
The cruisers on the left side of the basin (from front to rear) are Minneapolis (CA-36), Tuscaloosa (CA-37), San Francisco (CA-38), Augusta (CA-31), Louisville (CA-28), and Portland (CA-33).
Among the other ships in reserve in the basin are Fomalhaut (AE-20), Webster (ARV-2), Albemarle (AV-5), Tangier (AV-8), Pocomoke (AV-9), Chandeleur (AV-10), Abatan (AW-4), Mission San Carlos (AO-120), Prince William (CVE-31), Anzio (CVE-57), Block Island (CVE-106), Palau (CVE-122), and San Carlos (AVP-51).
Moored in the shipyard at the extreme left are Tennessee (BB-43), California (BB-44), and Cabot (CVL-28).
Official U.S. Navy Photograph, now in the collections of the National Archives (# 80-G-668655).
Robert Hurst