Please Report Any Broken Links Or Trouble You Might Come Across To The Webmaster
Please Take A Moment To Let Us Know So That We Can Correct Any Problems And Make Your Visit As Enjoyable And As Informative As Possible.
---
Navsource Online: Destroyer Escort Photo Archive
USS Eichenberger (DE 202)






Flag Hoist / Radio Call Sign:
N - G - C - F
---
Awards, Citations and Campaign Ribbons

Specifications:
Class: Buckley
Type: TE (turbine-electric drive, 3" guns)
Displacement: 1400 tons (light), 1740 tons (full)
Length: 300' (wl), 306' (oa)
Beam: 36' 9" (extreme)
Draft: 10' 6" (draft limit)
Propulsion: 2 "D" Express boilers, G.E. turbines with electric drive, 12000 shp, 2 screws
Speed: 24 kts
Range: 6,000 nm @ 12 knots
Armament: 3 x 3"/50 Mk22 (1x3), 1 twin 40mm Mk1 AA, 8 x 20mm Mk 4 AA, 3 x 21" Mk15 TT (3x1), 1 Hedgehog Projector Mk10 (144 rounds), 8 Mk6 depth charge projectors, 2 Mk9 depth charge tracks
Complement: 15 / 198
---
Eichenberger (DE 202) Building and Operational Data:
15 April 1943: Keel laid by the Charleston Navy Yard, Charleston, S.C.
22 July 1943: Launched and christened, sponsored by Ensign Eichenberger's widow
17 November 1943: Commissioned at the Charleston Navy Yard, Lcdr N. Harrell in command
16 May 1946: Decommissioned at San Diego, Cal. after 2.5 years of service
01 December 1972: Struck from the NVR
01 November 1973: Sold for scrapping to the National Metal and Steel Corp., Terminal Island, Los Angeles, Cal.
---
Click On Image
For Full Size Image
Size
Image Description
Contributed
By And/Or Copyright
26k
Charles Emil Eichenberger, Jr. was born in Naranja, Fla., 12 May 1920 and died 12 September 1942 as a result of enemy action in the Battle of the Solomon Islands. A 1941 graduate of the Citadel, in Charleston, South Carolina, Eichenberger enlisted in the U.S. Naval Reserve 15 April 1941 as a Seaman Second Class and received his elimination flight training from 15 April 1941 to 05 May 1941 at the Naval Reserve Aviation Base, Miami, Fla. He also received training at the Naval Air Stations in Jacksonville and Pensacola, Fla.

On 12 June 1941 his enlistment terninated under honorable conditions and on 13 June he was appointed Aviation Cadet, U.S. Naval Reserve and reported for active duty to undergo training at the Naval Air Stations in Pensacola and Miami. Fla. After graduating and being assigned to Fighter Squadron 5 in Saratoga (CV 3), Ensign Eichenberger was killed in action 12 September 1942 in the fierce fighting of the Solomon Islands while pressing home an attack on enemy dive bombers.

USS Eichenberger (DE 202) (1943-1945) was the first ship named in his honor. (Photo from the The Citadel, Citadel History)
Bill Gonyo
614k
22 July 1943: Charleston Navy Yard, S.C. - Eichenberger's Christening and launch
Dorothy Henson
from the scrapbook of her uncle,
Roy V. Anthis

Larger Scans, Courtesy of

Frederick J. Moisson
Collection Manager & Volunteer Coordinator
Museum of Military History
5210 West Irlo Bronson Memorial Highway
Kissimmee, Florida 34746
322k
18 November 1943: Charleston Navy Yard - Crew portrait (taken the day after commissioning)
153k
November 1943
John Klar
56k
early 1944: USS Hamul (AD 20) with (from left to right) DEs USS Calcaterra (DE 390); USS Pride (DE 323); USS Falgout (DE 324); USS Alger (DE 101) and USS Eichenberger (DE 202), alongside at Bermuda. Note HF/DF antenna visible on three of the five DEs, and the two-tone Measure 22 camouflage on four of the five DEs. (U.S. Naval Historical Center photo #NH 86271, courtesy of the Captain D.L. Madeira Collection)
Robert Hurst
---
Eichenberger Memorabilia
Launch Program
Cover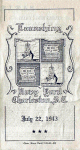 Courtesy of
Jon Burdett
Postal Cover,
Launch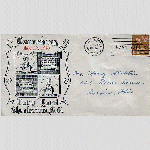 Courtesy of
Jon Burdett
Commissioning
Invitation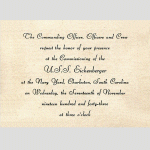 Courtesy of
Frederick J. Moisson
Dinner Menu
05 September 1945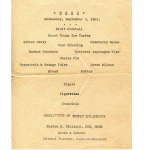 Courtesy of
Frederick J. Moisson
---
Eichenberger History
View the USS Eichenberger (DE 202) DANFS history entry located on the Naval History and Heritage Command web site.
---
Eichenberger's Commanding Officers
Thanks to Wolfgang Hechler & Ron Reeves
Dates of Command
Commanding Officers
1.) 17 Nov. 1943 - 16 May 1945
Lcdr. Ned Harrell (Comm. CO)
2.) 16 May 1945 - 07 Oct. 1945
Lcdr. Norwood P. Hallowell, Jr., USNR
3.) 01 Nov. 1945 - 07 Jan. 1946
Lcdr. Albert D. Jordan, USNR 
4.) 01 Feb. 1946 - 16 May 1946
Lt.(jg) Ralph F. DuPree, USNR (Decomm. CO)
---
Crew Contact And Reunion Information
---
None
---
Note About Contacts
Contact information is compiled from various sources over a period of time and may, or may not, be correct. Every effort has been
made to list the newest contact. However, our entry is only as good as the latest information that's been sent to us. We list only
a contact for the ship if one has been sent to us. We do NOT have crew lists, rosters, or deck logs available. Please see the
Frequently Asked Questions section on NavSource's Main Page for that information.
---
Additional Resources
---
Tin Can Sailors
The U.S. Navy Memorial
Destroyer Escort Sailors Association
The Destroyer Escort Historical Museum
The Destroyer History Foundation
Tin Can Sailors Shipmate Registry - USS Eichenberger
---

Comments, Suggestions, or Image Submissions, Please E-mail: DE Info
Problems or Site Related Matters, Please E-mail: Webmaster
This Page Created And Maintained by Mike Smolinski



by Paul R. Yarnall, All Rights Reserved.
Page Last Updated: 04 June 2017