Please report any broken links or trouble you might come across to the Webmaster. Please take a moment to let us know so that we can correct any problems and make your visit as enjoyable and as informative as possible.
---
NavSource Online: Service Ship Photo Archive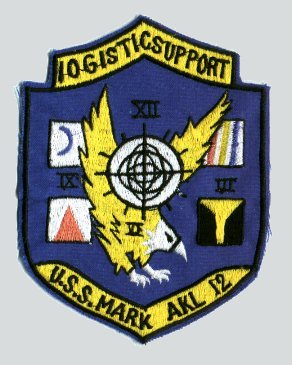 Contributed by Mike Smolinski



Contributed by Al Grazevich
USS Mark (AKL-12)
ex
USS Mark (AG-143) (1947 - 1949)
US Army FS-214 (1944 - 1947)





International Radio Call Sign:
November - Charlie - Golf - Foxtrot
NCGF
---
Awards, Citations and Campaign Ribbons

Camano Class Light Cargo Ship:
Laid down in 1943, at Higgins Industries New Orleans, LA. for the US Army, as FS-214
Delivered to the US Army in 1944
Acquired by the US Navy, 30 September 1947, at US Naval Station Subic Bay, P.I.
Commissioned USS Mark (AG-143), 2 December 1947, CDR. Kenneth Charles Kicker in command
Redesignated (AKL-12), 13 March 1949
Decommissioned and place in service in 1956
Recommissioned, 1 October 1965
During the Vietnam War USS Mark participated in the following campaigns:
Campaign and Dates
Campaign and Dates
Vietnamese Counteroffensive
29 December 1965 to 11 January 1966
21 January to 5 February 1966
18 February to 3 March 1966
18 March to 5 April 1966
18 April to 5 May 1966
17 May to 30 June 1966
Tet 69/Counteroffensive
1 to 8 June 1969
Vietnamese Counteroffensive - Phase II
1 to 27 July 1966
30 August 25 October 1966
15 November to 16 December 1966
1 January to 31 May 1967
Vietnam Summer-Fall 1969
9 June to 21 July 1969
Vietnamese Counteroffensive - Phase III
1 to 17 June 1967
24 October 1967
Vietnam Winter-Spring 1970
1 January to 30 April 1970
Vietnamese Counteroffensive - Phase IV
30 June 1968
Sanctuary Counteroffensive
1 May to 30 June 1970
Vietnamese Counteroffensive - Phase V
1 July to 31 December 1968
Vietnamese Counteroffensive - Phase VII
1 July to 2 August 1970
31 October 1970 to 27 March 1971
Decommissioned, 1 July 1971 and leased under the Security Assistance Program to Taiwan, renamed Yung Kang (A-514)
Struck from the Naval Register, 15 April 1976
Sold to Taiwan, 1 May 1976, under the Security Assistance Program
Final Disposition, fate unknown
USS Mark earned ten campaign stars for Vietnam War service
---
Specifications:
Displacement 550 t.
Length 180'
Beam 33'
Draft 10'
Speed 12 kts.
Complement 42

Propulsion

two 500hp GM Cleveland Division 6-278A 6-cyl V6 Diesel engines
twin propellers
---
Click On Image
For Full Size Image
Size
Image Description
Contributed
By
USS Mark (AKL-12)

44k
USS Mark (AKL-12) at anchor in 1966. location unknown
US Navy photo.
Robert Hurst
85k
USS Mark (AKL-12) under way in South Vietnam, circa 1966.
Richard Miller BMCS USNR Ret.
41k
USS Mark (AKL-12) under way circa 1969-71.
Photo courtesy of Dick Raffl and Mobile Riverine Force Association web site.
Robert Hurst
54k
USS Mark (AKL-12) tied up alongside a barge at Nha Be. Note the damage to her starboard side, the result of Mark running into a barge while underway in April 1970.
Photo courtesy of Dick Raffl and Mobile Riverine Force Association web site.
Photo - Robert Hurst
Caption - David Rinehart USS Mark, April 1970 to July 1971.
51k
USS Mark (AKL-12) moored with damage from barge strike showing, circa April 1970.
David Rinehart USS Mark, April 1970 to July 1971.
47k
57k
USS Mark (AKL-12) drydocked in Japan, date unknown.
Photo courtesy of Dick Raffl and Mobile Riverine Force Association web site.
Robert Hurst
47k
USS Mark (AKL-12), near Cat Lo, RVN, March 1971. Photo taken just days before Mark left Vietnam to be turned over to the Taiwanese Navy.
Stan Lambert YN2 USS Mark 1970-1971
ROCS Yung Kang (A-514)

44k
Ex-USS Mark (AKL-12) in Taiwanese service as ROCS Yung Kang (A-514)
Taiwan Navy Web Site
---
USS Mark (AKL-12)
Dictionary of American Naval Fighting Ships (DANFS)
and the history entry located at the Mobile Riverine Force Association
---
Commanding Officers

01
CDR. Kicker, Charles Kenneth
2 December 1947 - ?
02
LCDR. Watson, Joseph Edward
2 January 1953 - 24 December 1953
03
LCDR. Samuel, Thomas Wilson
24 December 1953 - 27 February 1954
04
LT. Wagner, Armin Siegfried
27 February 1954 - 30 April 1954
05
LT. Hughes, Scot Ernest
30 April 1954 - ?
06
CHBOSN Page, Jack
1956
07
CHBOSN Val Cleef, Jacque Edward
1962
08
LT. Sanderlin, Francis Richard
1 October 1965 - ?
09
LT. Yielding, Walter F. B., USN
? - 24 June 1970
10
LT. Robinson Jr., William B., USN
24 June 1970 - 1 July 1971
Courtesy Wolfgang Hechler and Ron Reeves
---
Crew Contact And Reunion Information Web Sites
U.S. Navy Memorial Foundation - Navy Log
---
Additional Resources and Web Sites of Interest
Change of Command program, Robinson for Yielding, 24 June 1970
Decommissioning and Transfer to the Republic of China, 1 July 1971
Mobile Riverine Force Association
---
This page is created and maintained by Gary P. Priolo


Last Updated 11 December 2015